2016
20th December Carol Singing at Leigh Station
£460.32 was collected for R.N.L.I.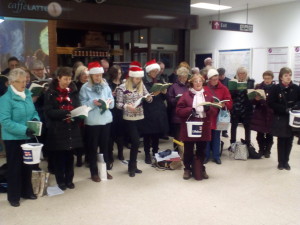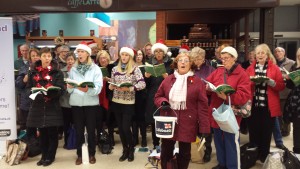 17th December 'Night of Miracles'
Our Christmas Concert – afternoon rehearsal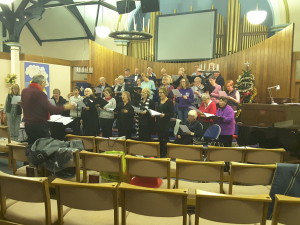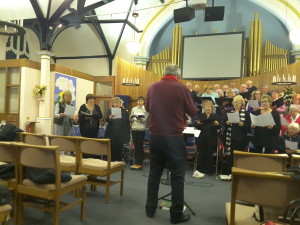 19th November. Concert at St Augustine's Church, Thorpe Bay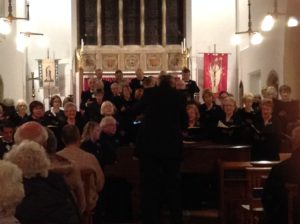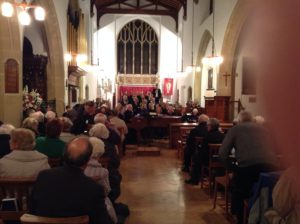 SOSAC Open Day 2016 – Sunday 11th September 2016
The 2016 Open Day took place at the Cliffs Pavilion, Station Road, Westcliff-on-Sea.
This was a chance for member groups to "take a table" and enjoy an exciting day meeting other groups, promoting their events and recruiting members to their own group or society.
It was a full day with the Open Day open to the public between 10am – 4pm..There was much interest shown about the choir and a number of people expressed interest in joining us later in the year.
Thanks to all the Choir members and patrons who supported manning our display.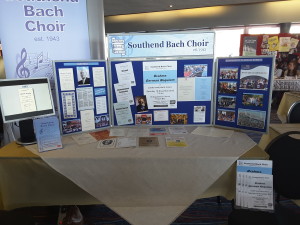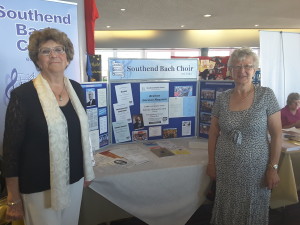 23rd July – Open House and Ploughman's Lunch at Sheila's House
In aid of St Luke's Hospice. £110 was raised.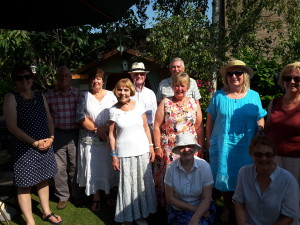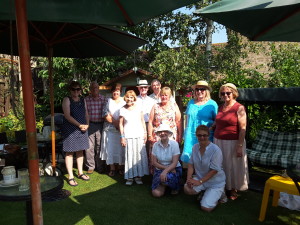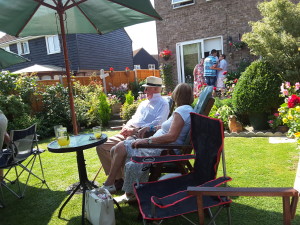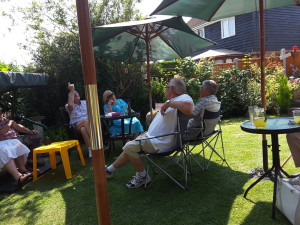 Christmas 2015 – Carol Singing at Leigh Station
Each year at Christmas, on one evening, Southend Bach Choir serenades travellers returning home to Leigh Station, with Christmas Carols.Donations are collected for the Royal National Lifeboat Institution (RNLI). This is followed by a visit to Elizabeth House to sing carols to the residents.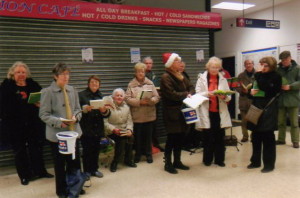 Christmas 2015 – Carol Singing at The Royals
This November, the choir were invited to sing carols to shoppers in the busy Royals shopping centre in Southend whilst raising money for the Southend Hospital Keyhole Cancer Appeal. Passers by were treated to a mixture of carols, as part of the Choir's festive season which included the BBC Essex recording of their Christmas Celebration along with annual performances at Leigh Station (collecting for the Southend RNLI) and Elizabeth House.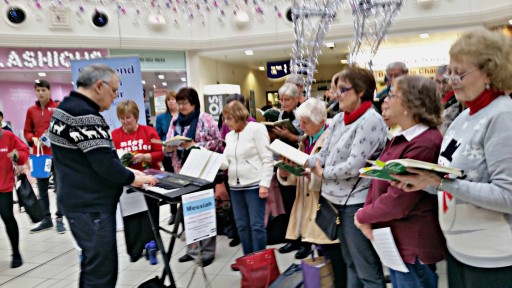 October 2015 – Antique Evening
The Choir held a different kind of social evening this autumn at St. Saviour's Church Hall in Westcliff-on-Sea. With the help of Mark Stacey from Stacey's Auctioneers, guests were invited to bring along an item to be valued. Mark entertained us with stories of interesting and amusing auctions and offered his advice on everything from jewellery, books, glassware and medals. Cheese and wine accompanied the evening, and a great time was had by all. A big thank you to Mark Stacey for hosting the night!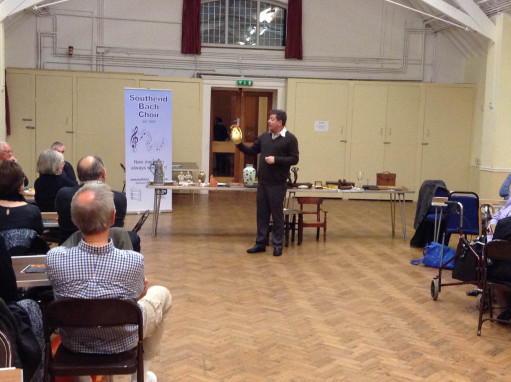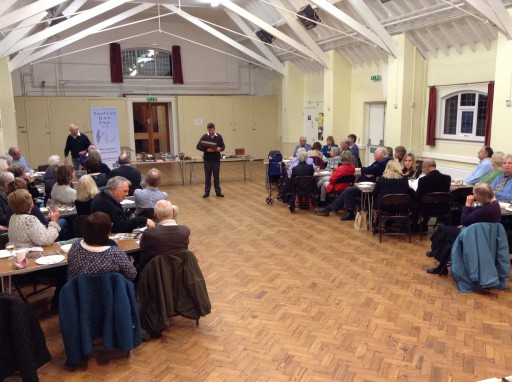 December 2014 – Christmas Fundraising
Thank you to all those who took part in our fundraising carol singing at Leigh Station this year. We raised a total of £523 for the Southend RNLI!
We also visited Elizabeth House (Eastwood), Palmerston House (Westcliff-on-Sea) and Furzefield (Leigh) throughout December to sing carols to residents which they very much enjoyed.
October 2014 – Fundraising Quiz Night
An enjoyable evening was had by all at 'The Den', Old Leigh when a quiz night was held for choir members and their friends and family. Six teams competed for first place answering questions on history, literature, films and of course music! Congratulations to the winning table and many thanks to our quiz masters and organisers for their fantastically presented event! Including a raffle, a total of £245 was raised for the Choir.
Fundraising Afternoon Tea 20th July 2014
Southend Bach Choir 70th Anniversary Dinner 29th October 2013
'Bach Choir Bake Off' Coffee Morning 16th October 2013
Summer Concert 21st July 2013
Our thanks to Ann Mildren who took this photo. Ann was visiting from Australia and was in the audience for this concert. She even left us a comment on Facebook "Enjoyed your 'Made in Britain' concert on the 21st of July, sounded great and terrific selection of songs!" Thanks Ann!
Carol Singing 18th December 2012
Christmas Concert 15th December 2012
July 2012 – Anthem: Southend Olympic Torch Relay
On Friday 6th July 2012, the Olympic Torch came to Southend-on-Sea. A group of Southend Bach Choir members were pleased to be able to take part in the celebrations as part of 'Anthem'.

The project brought together 2000 singers from local schools and choirs to sing a specially commissioned piece of music, 'Let Your Light Shine' composed by Tolga Kashif.
Despite the damp weather, the event was a huge success and the climax of the torch arriving in our town. It was a very moving experience for all involved, and choir members were proud to say they took part.
Congratulations to all involved, it really was a fantastic event!
May 2012 – Choir Celebrates Long-Standing Members
This year, two of our members can celebrate over 60 years singing with Southend Bach Choir. Jean Restorick and Pam Wall both joined the choir as teenagers when rehearsals were held at Southend Municipal College with Dr. Harold May.
In the following decade, Ken Treverton, Christine Smith and John Wall (later to become Pam's huband!) also joined, and they now celebrate over 50 years singing with the choir.
Pam and Christine were mentioned in the Evening Echo in May 2012 as part of the Queen's Diamond Jubilee Celebrations, together with details of the choir's special Jubilee concert.
Congratulations to them all on a great achievement and we wish them all many more happy years of singing.
Purcell: Dido and Æneas – Saturday 20th July 2002
Rossini: Petite Messe Solenelle – Saturday 18th May 2002