2018
HARP Christmas Carol Service
Following our successful support of HARP in 2017, we once again decided to perform a Festival of Nine Lessons and Carols, on Saturday 22nd December, in aid of the charity HARP. This once again took place in St Mary's Church, Prittlewell and we were thrilled that the Church was almost full. It was a fantastic festive evening and the audience certainly enjoyed the service. We were pleased to welcome HARP's Chief Executive Jackie Bliss, our Mayor Cllr Derek Jarvis, our local Member of Parliament Sir David Amess and the Bishop of Chelmsford, Bishop Stephen, who gave a challenging address. People were so generous in their support of HARP and we were able to raise well over £1,700 for this worthwhile local charity. Refreshments were served afterwards and we appreciated the help and support of all the volunteers from HARP.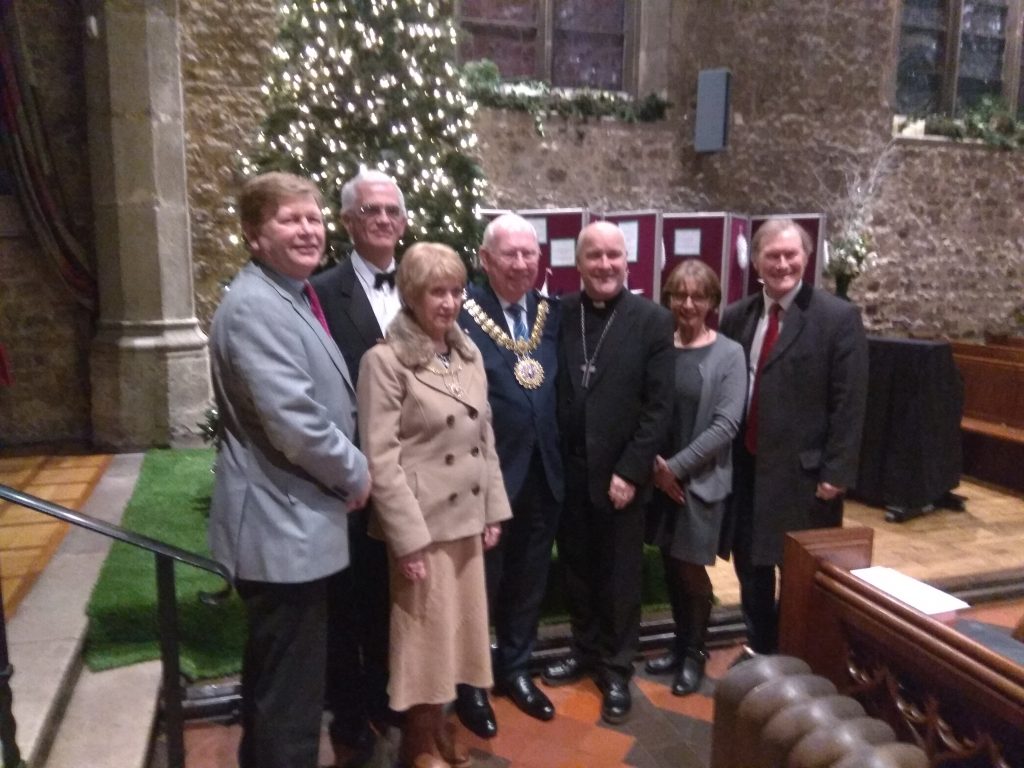 RNLI Singing @ Leigh Station – 19th December
Several members of the choir serenaded commuters at Leigh Station with renderings of traditional carols, Christmas songs and the Hallelujah Chorus from Handel's Messiah. Thanks to the generosity of the many commuters we raised £436.64 for the RNLI. The choir enjoyed it, the commuters enjoyed it and the RNLI were grateful recipients.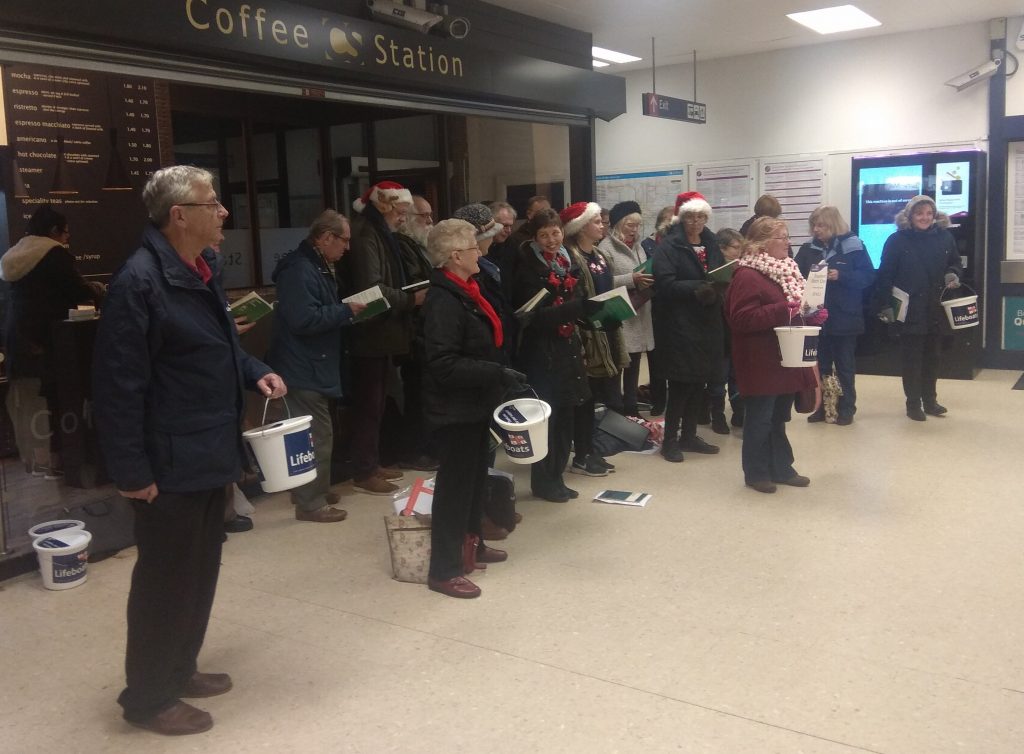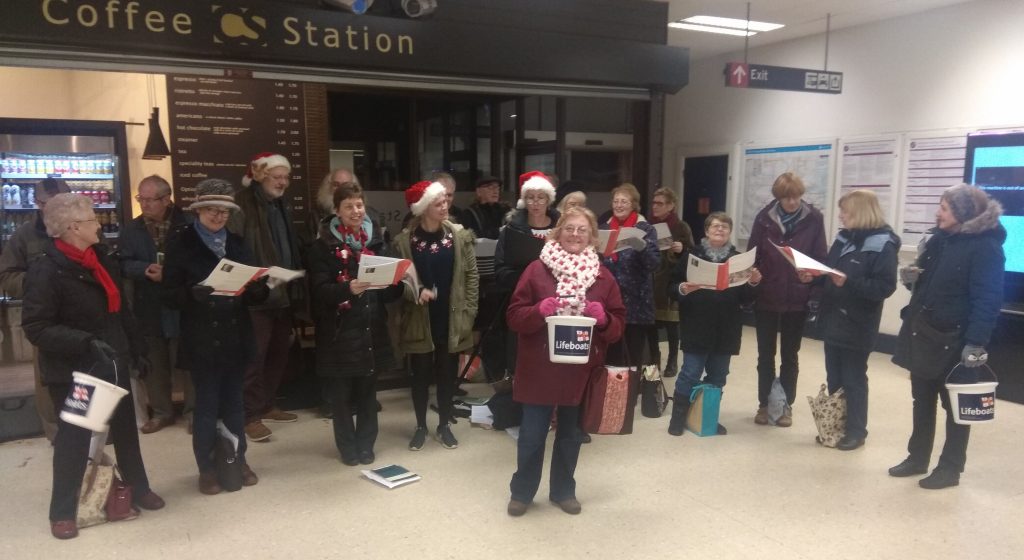 Remembrance Day Concert – Sunday 11th November 2018
On Sunday 11th November, the choir took part in a large choral and orchestral concert to commemorate the centenary of the end of World War 1 at the Cliffs Pavilion in Westcliff. The concert involved four established local choirs, The Southend Choral Society, Southend Festival Chorus, Southend Bach Choir & Eastwood Chorale, who were joined by the Southend Symphony Orchestra to present an afternoon of music for Remembrance. The concert included Elgar's "Music Makers" and "Nimrod", music by John Williams, Parry, Butterworth, Sibelius and Holst in addition to music for audience participation with traditional WW1 songs, and "Land of Hope and Glory". The choirs and orchestra were also joined by members of the Southend Boys' and Girls' Choirs and the concert was conducted by guest BBC conductor Grace Rossiter.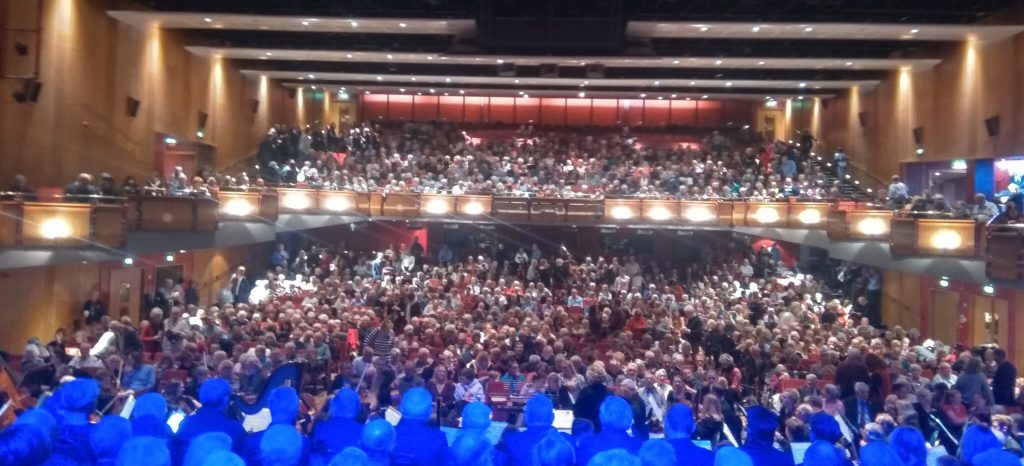 The foyer of the Cliffs Pavilion had displays of photographs from the international exhibition "Fields of Battle, Lands of Peace 14-18" by photographer Michael St Maur Sheil, in addition to a wave of poppies created by local communities.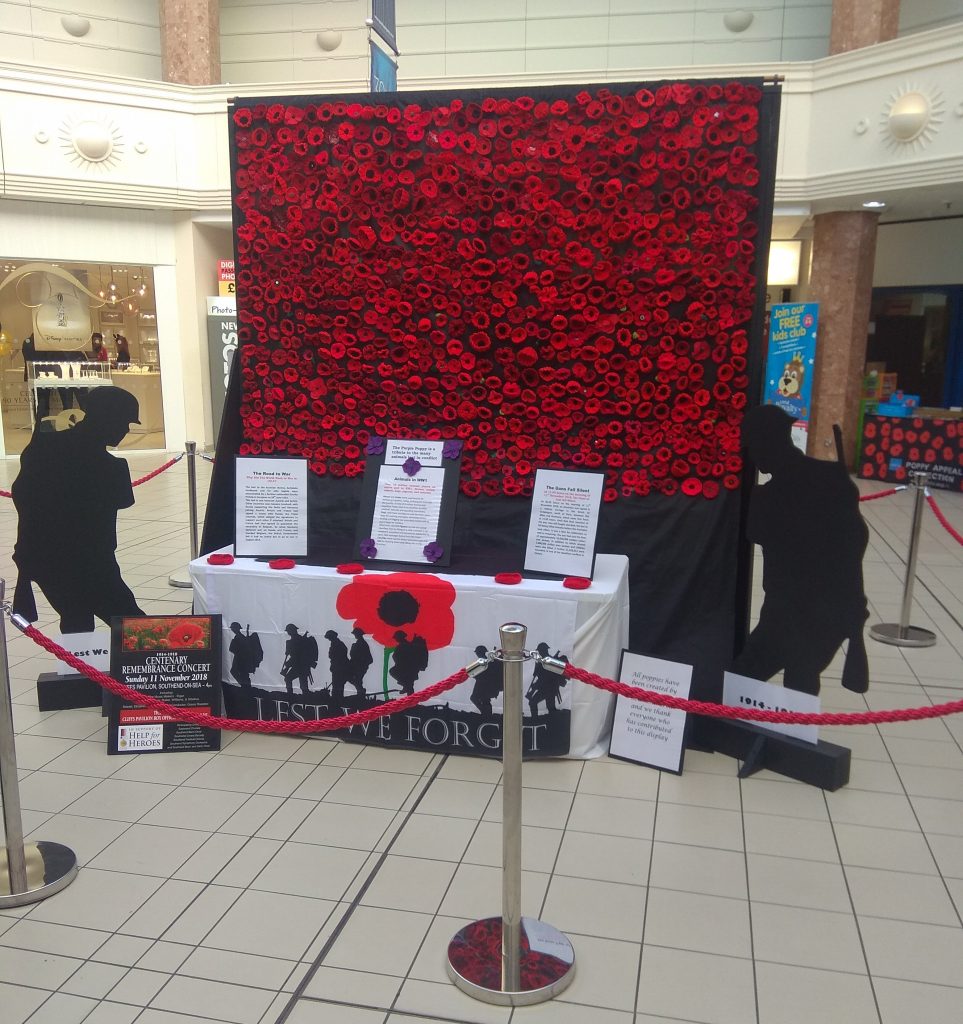 Help for Heroes attended the concert selling merchandise and collecting for the charity. We were very pleased that they collected £978.50 on the day and were also able to raise awareness of the work they perform in support of our wounded soldiers.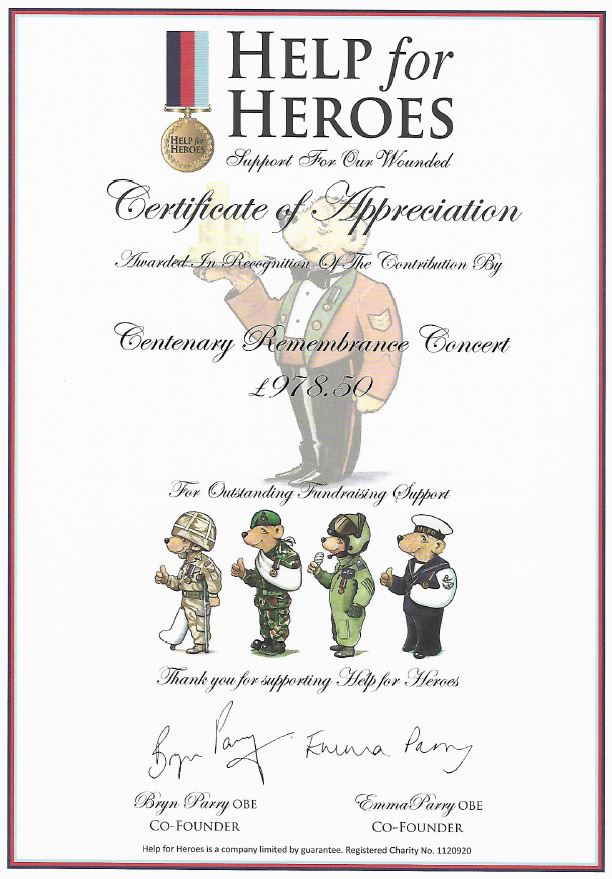 Busy Rehearsing for our Summer Concert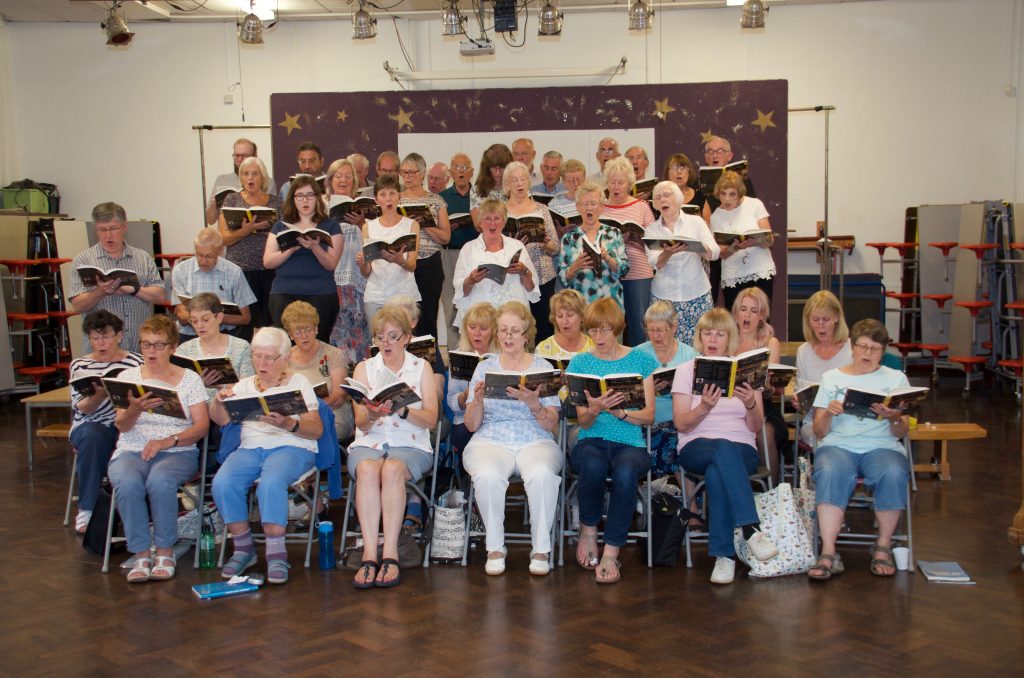 Music In The Woods – 16th June
The choir joined forces with other musical groups from the Borough to put on an evening of music at Belfairs Woodland Centre in aid of Essex Wildlife Trust.
The programme for the evening containing the musical groups and items sung can be obtained by "clicking" the image below: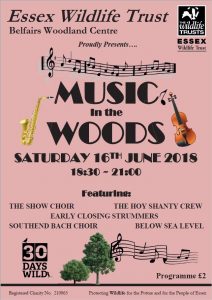 Some pictures of the choir performing on the actual evening: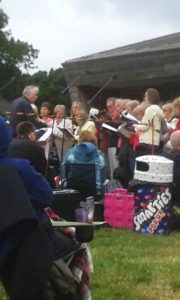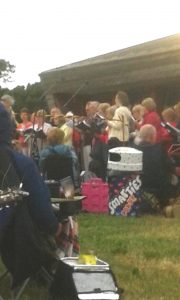 2017
Christmas Singing
Prior to Christmas 2017, this lively, enthusiastic choir was busy singing.
Instead of our usual Christmas carol concert it was decided that we should have a Festival of Nine Lessons and Carols, on Saturday 16th December, in aid of the charity HARP. This took place in St Mary's Church, Prittlewell, a church which boasts splendid acoustics for both singing and Bible narration. It was well received with many positive comments from both the audience and choir. People gave generously and we raised over £700.00. We were pleased to welcome our local Members of Parliament and the Bishop of Chelmsford, Bishop Stephen, who gave a challenging address . Refreshments were served afterwards and we appreciated the help and support of all the volunteers from HARP.
RNLI Singing @ Leigh Station – 19th December
On the following Tuesday evening several members of the choir braved the cold to serenade commuters at Leigh on Sea station with renderings of popular, traditional carols and the Hallelujah chorus from Handel's Messiah. The commuters dug deep into their pockets and we raised £470.00 for the RNLI. The choir enjoyed it, the commuters enjoyed it and the RNLI were grateful recipients.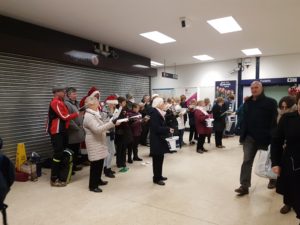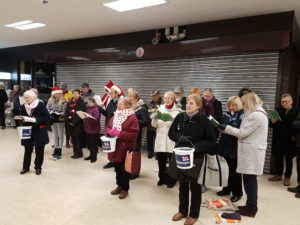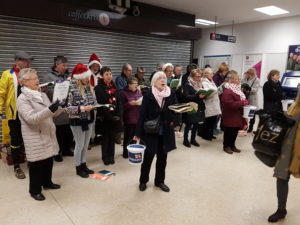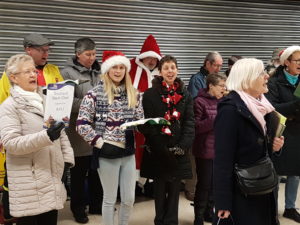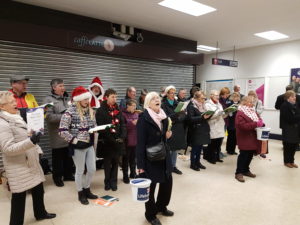 Southend Arts' Council Open Day 10th September



End of Summer Term Meal




15th July – Summer Concert – 'Sacred and Secular'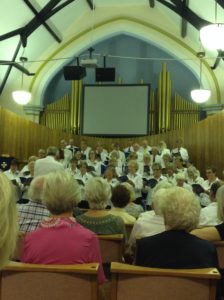 2016
20th December Carol Singing at Leigh Station
£460.32 was collected for R.N.L.I.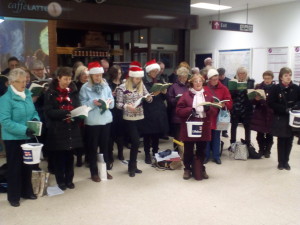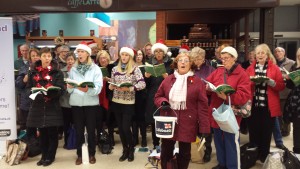 17th December 'Night of Miracles'
Our Christmas Concert – afternoon rehearsal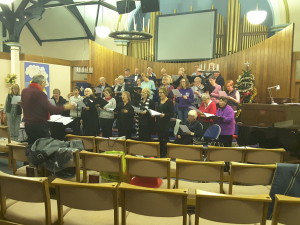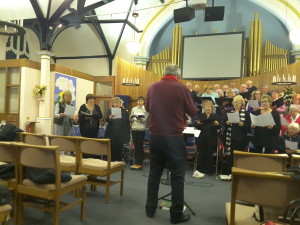 19th November. Concert at St Augustine's Church, Thorpe Bay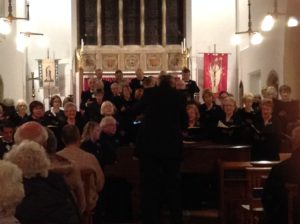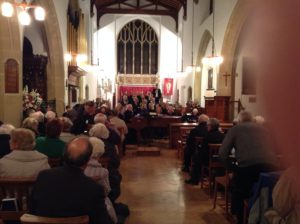 SOSAC Open Day 2016 – Sunday 11th September 2016
The 2016 Open Day took place at the Cliffs Pavilion, Station Road, Westcliff-on-Sea.
This was a chance for member groups to "take a table" and enjoy an exciting day meeting other groups, promoting their events and recruiting members to their own group or society.
It was a full day with the Open Day open to the public between 10am – 4pm..There was much interest shown about the choir and a number of people expressed interest in joining us later in the year.
Thanks to all the Choir members and patrons who supported manning our display.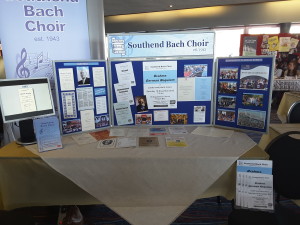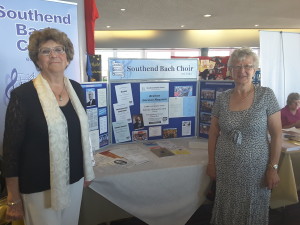 23rd July – Open House and Ploughman's Lunch at Sheila's House
In aid of St Luke's Hospice. £110 was raised.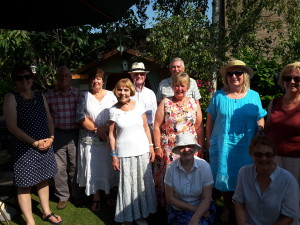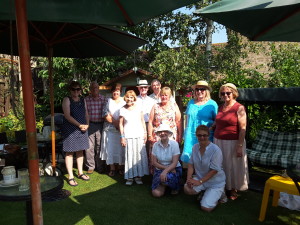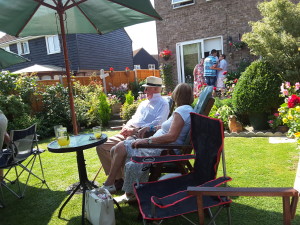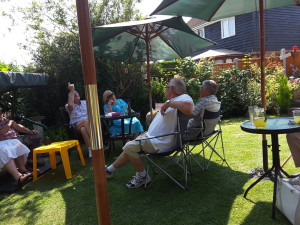 Christmas 2015 – Carol Singing at Leigh Station
Each year at Christmas, on one evening, Southend Bach Choir serenades travellers returning home to Leigh Station, with Christmas Carols.Donations are collected for the Royal National Lifeboat Institution (RNLI). This is followed by a visit to Elizabeth House to sing carols to the residents.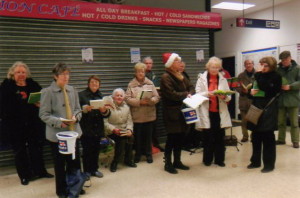 Christmas 2015 – Carol Singing at The Royals
This November, the choir were invited to sing carols to shoppers in the busy Royals shopping centre in Southend whilst raising money for the Southend Hospital Keyhole Cancer Appeal. Passers by were treated to a mixture of carols, as part of the Choir's festive season which included the BBC Essex recording of their Christmas Celebration along with annual performances at Leigh Station (collecting for the Southend RNLI) and Elizabeth House.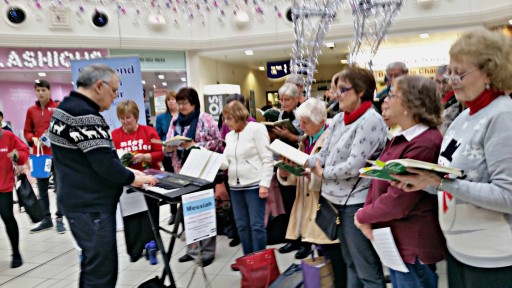 October 2015 – Antique Evening
The Choir held a different kind of social evening this autumn at St. Saviour's Church Hall in Westcliff-on-Sea. With the help of Mark Stacey from Stacey's Auctioneers, guests were invited to bring along an item to be valued. Mark entertained us with stories of interesting and amusing auctions and offered his advice on everything from jewellery, books, glassware and medals. Cheese and wine accompanied the evening, and a great time was had by all. A big thank you to Mark Stacey for hosting the night!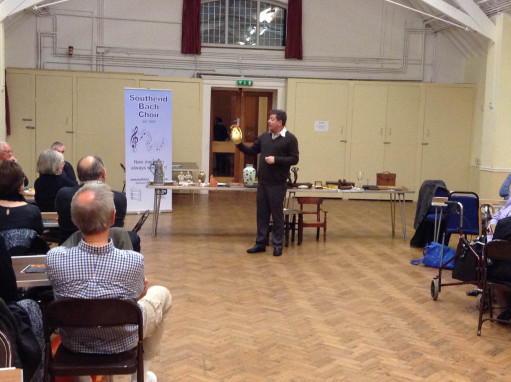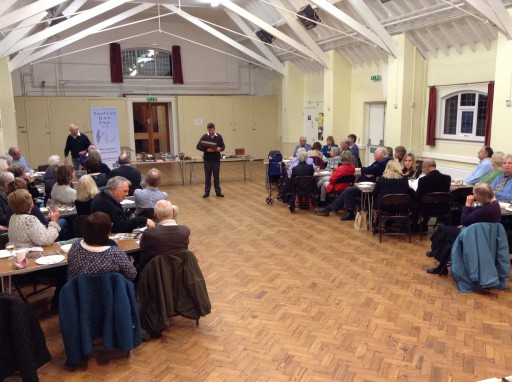 December 2014 – Christmas Fundraising
Thank you to all those who took part in our fundraising carol singing at Leigh Station this year. We raised a total of £523 for the Southend RNLI!
We also visited Elizabeth House (Eastwood), Palmerston House (Westcliff-on-Sea) and Furzefield (Leigh) throughout December to sing carols to residents which they very much enjoyed.
October 2014 – Fundraising Quiz Night
An enjoyable evening was had by all at 'The Den', Old Leigh when a quiz night was held for choir members and their friends and family. Six teams competed for first place answering questions on history, literature, films and of course music! Congratulations to the winning table and many thanks to our quiz masters and organisers for their fantastically presented event! Including a raffle, a total of £245 was raised for the Choir.
Fundraising Afternoon Tea 20th July 2014
Southend Bach Choir 70th Anniversary Dinner 29th October 2013
'Bach Choir Bake Off' Coffee Morning 16th October 2013
Summer Concert 21st July 2013
Our thanks to Ann Mildren who took this photo. Ann was visiting from Australia and was in the audience for this concert. She even left us a comment on Facebook "Enjoyed your 'Made in Britain' concert on the 21st of July, sounded great and terrific selection of songs!" Thanks Ann!
Carol Singing 18th December 2012
Christmas Concert 15th December 2012
July 2012 – Anthem: Southend Olympic Torch Relay
On Friday 6th July 2012, the Olympic Torch came to Southend-on-Sea. A group of Southend Bach Choir members were pleased to be able to take part in the celebrations as part of 'Anthem'.

The project brought together 2000 singers from local schools and choirs to sing a specially commissioned piece of music, 'Let Your Light Shine' composed by Tolga Kashif.
Despite the damp weather, the event was a huge success and the climax of the torch arriving in our town. It was a very moving experience for all involved, and choir members were proud to say they took part.
Congratulations to all involved, it really was a fantastic event!
May 2012 – Choir Celebrates Long-Standing Members
This year, two of our members can celebrate over 60 years singing with Southend Bach Choir. Jean Restorick and Pam Wall both joined the choir as teenagers when rehearsals were held at Southend Municipal College with Dr. Harold May.
In the following decade, Ken Treverton, Christine Smith and John Wall (later to become Pam's huband!) also joined, and they now celebrate over 50 years singing with the choir.
Pam and Christine were mentioned in the Evening Echo in May 2012 as part of the Queen's Diamond Jubilee Celebrations, together with details of the choir's special Jubilee concert.
Congratulations to them all on a great achievement and we wish them all many more happy years of singing.
Purcell: Dido and Æneas – Saturday 20th July 2002
Rossini: Petite Messe Solenelle – Saturday 18th May 2002